"My goal each and every day is to make a positive impact in the lives of our patients and to invest in the community in which I live and work."
"I feel blessed to be a part of my patients' lives, even for a short season, to be able to care for them, to make them laugh, to be a voice of positivity, and to be able to deliver a service that can bring joy and inspire confidence." – Dr. Roberson
Dr. Cason Roberson earned his undergraduate degree in Biomedical Sciences from Auburn University. Upon receiving his Doctorate of Medical Dentistry from the University of Alabama at Birmingham in 2012, Dr. Roberson was commissioned as a Dental Officer into the United States Navy. During his five years on active duty, he completed an Advanced Education in General Dentistry residency at Marine Corps Base Camp Lejeune, and provided comprehensive dental care to both active duty and reserve members of all five armed-service branches. Since entering private practice, Dr. Roberson remains an active reservist in the Navy.
Dr. Roberson is dedicated to furthering his orthodontic knowledge through continuing education. He believes that true patient-centered treatment comes from delivering the highest quality care to achieve the best possible outcomes and that continuing education is paramount to achieving these goals. He is a member of the American Dental Association, Academy of General Dentistry, and the American Association of Orthodontists, in addition to being board certified by the American Board of Orthodontics.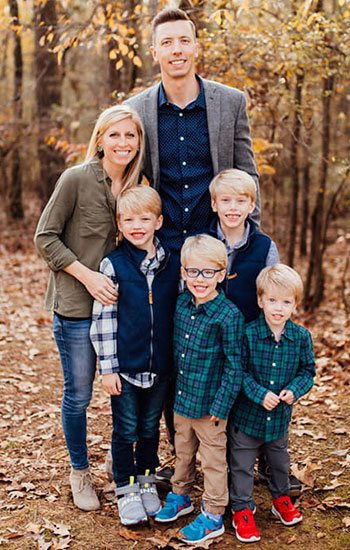 Dr. Roberson is happily married to his wife Shelley and spends any free time that he has attempting, often unsuccessfully, to wear out his four wild boys, Davis, Woody, Payne, and Tullis. The family is also expecting a little girl who will be arriving in January 2022. Because life just wasn't crazy enough, they also have two golden doodles (Max and Bruce) and two cats (Reba and Harper). When he is not with his family, Dr. Roberson enjoys participating in endurance sports and duck hunting.
Dr. Roberson is also passionate about investing in our community, most specifically encouraging and empowering the next generation of leaders, parents, and influencers through leading faith-based discussions, coaching youth sports, and volunteering to help with local service projects and initiatives.